Using Artificial Intelligence to prevent patient loss to follow up
Introducing BroadReach Consulting's
Patient Retention Solution
Preventing loss to follow up
BroadReach Consulting's Patient Retention Solution
Keeping HIV positive patients on treatment is vital to bringing HIV into epidemic control and achieving the UNAIDS "90-90-90" targets:
90% of HIV+ individuals
aware of their status
90% of diagnosed patients on sustained treatment
90% of treated patients achieving viral suppression
Patients who drop out of treatment have poor health outcomes and increase the risk of viral transmission. The term 'Loss to follow up" (LTFU) is used to describe patients who drop out of care.
The challenge of LTFU is magnified in underserved communities. Promising interventions to increase patient engagement are hampered by capacity constraints. Scalable technologies deployed elsewhere to promote adherence remain out of reach, exacerbated by technical and regulatory challenges.
Learn More
Key benefits to the program
01.

Improved patient outcomes and overall program impact

Foresight gives programs the ability to pre-emptively intervene and prevent loss to follow up, keeping more patients on treatment and saving lives.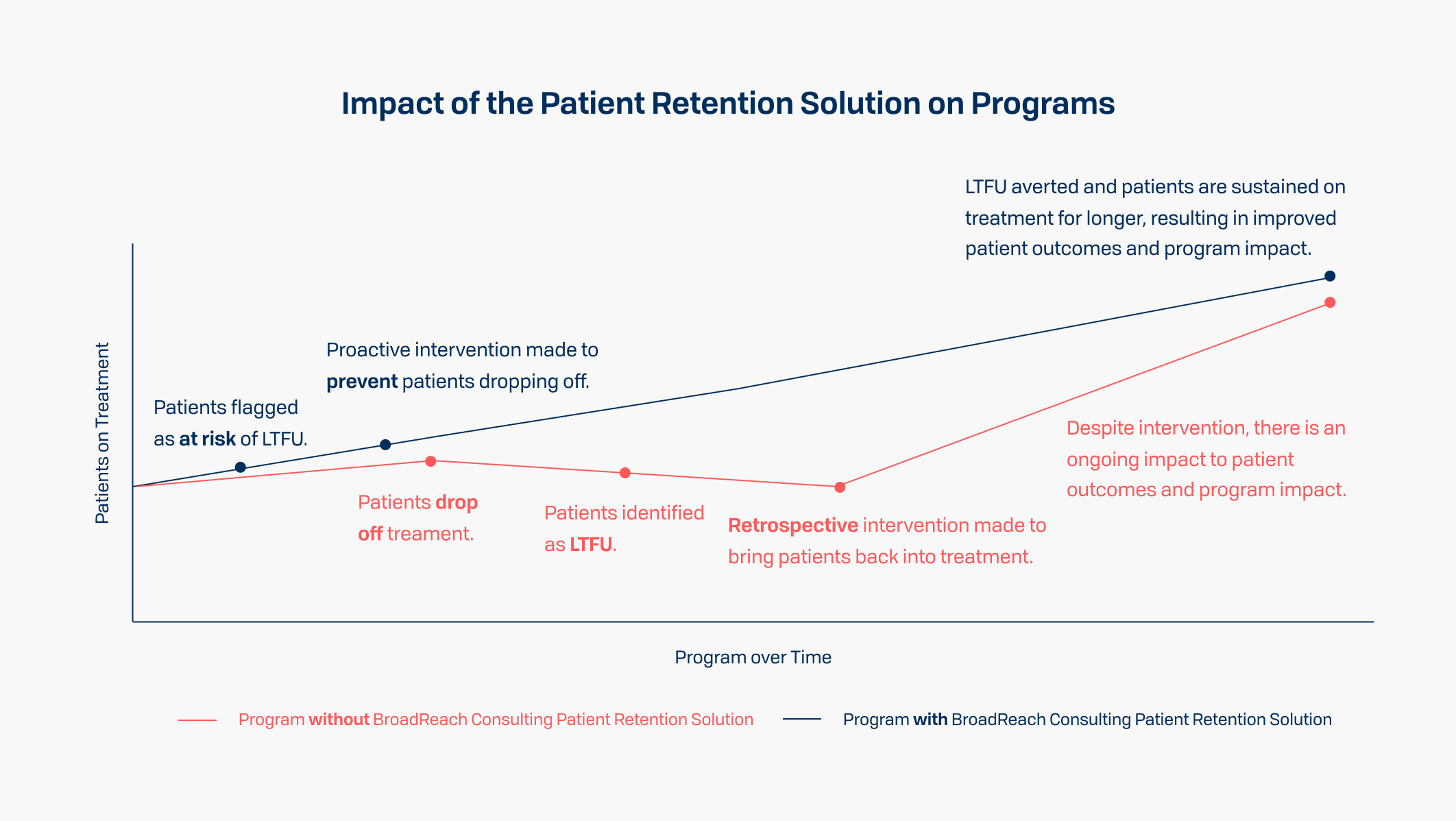 02.

Program cost efficiencies

Preventing loss to follow up (LTFU) saves the costs incurred to bring a lost patient back into treatment and avoids catastrophic cost escalation due to issues associated with drug resistance. This ultimately enables programs to spend budgets more efficiently and effectively.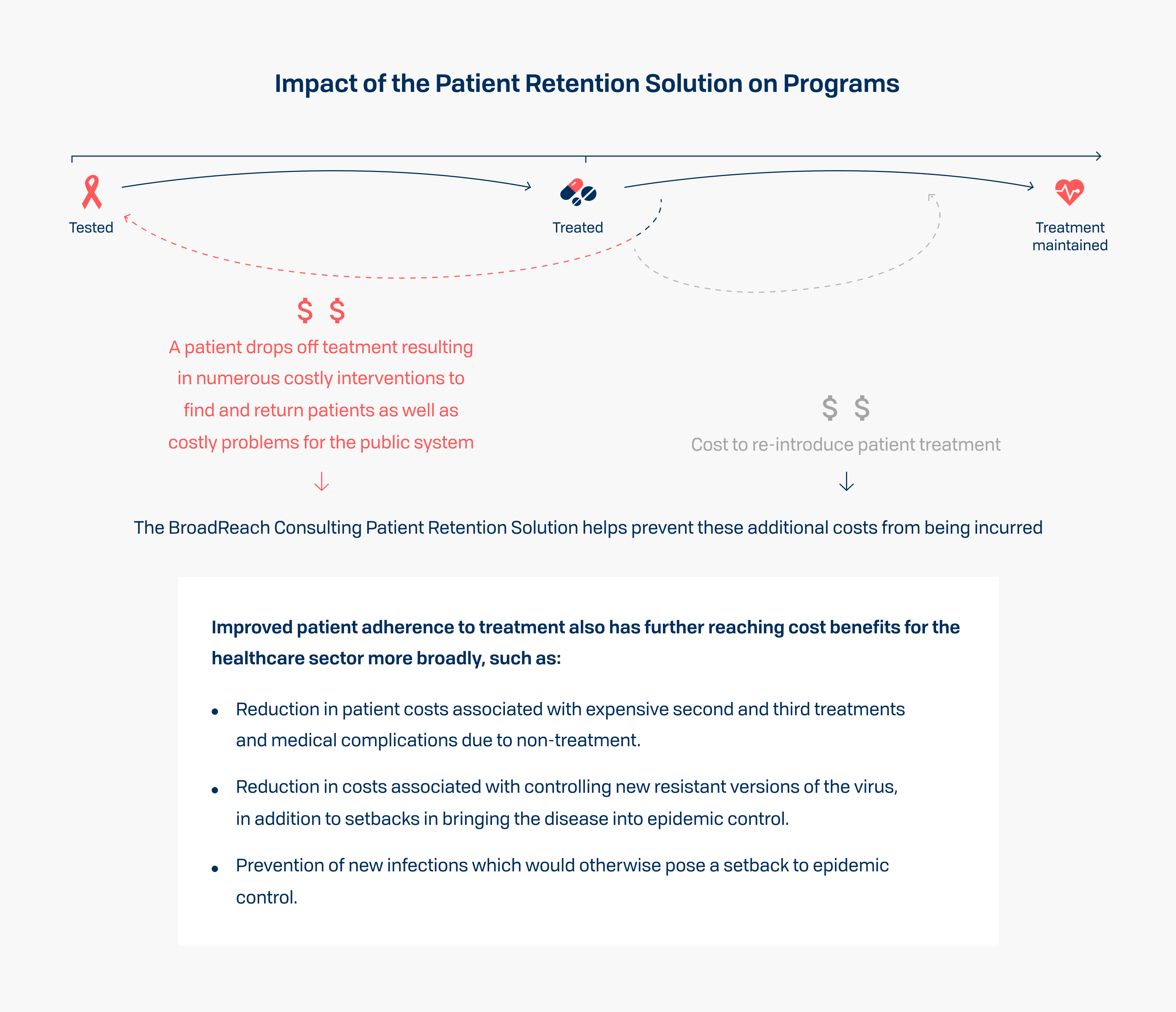 03.

Improved efficacy of patient retention interventions

The BroadReach Consulting Patient Retention Solution enables programs to track which interventions yield positive results and which do not, and refine interventions as needed.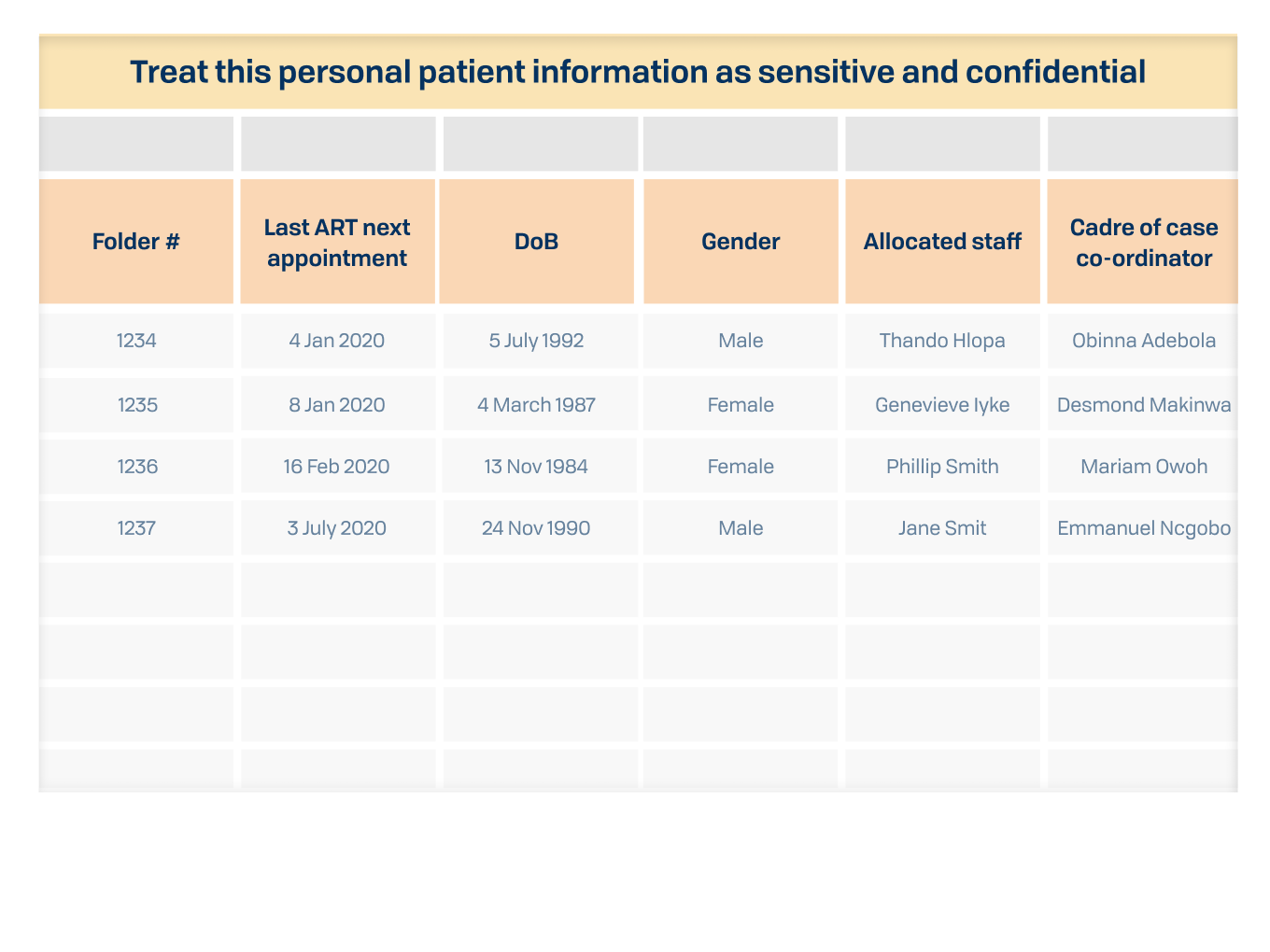 The power of technology
Product features of the At Risk Patient List
Folder Number + Gender + Date of Birth (DoB): De-identified data is used to protect patient identity
Date of Birth: DoB is one of many input variables that will influence a patients risk score
Staff Allocated + Cadre of Case Coordinator 'feature': Ensuring clear resource commitment to actioning patient retention interventions, the program can measure whether one care giver performs better or worse than another and apply corrective action as well as the customized intervention efficacy
Approach and methodology
Predictive analytics that prevents patient loss to follow up
Consistent with good analytics practice, we developed models on a subset of the data of 500,000 HIV positive patients. We used this to train the model, and then applied the resulting models to the broader dataset to validate the quality of the model. We continued to tune the models through numerous iterations of feature and selection.
Our modelling approach was able to achieve sufficiently robust scores across the various predictive models to be insightful at clinical operations level. The confidence in predictions ranged from 68 - 75%, which was then improved to 80 - 88% in the final tuned model.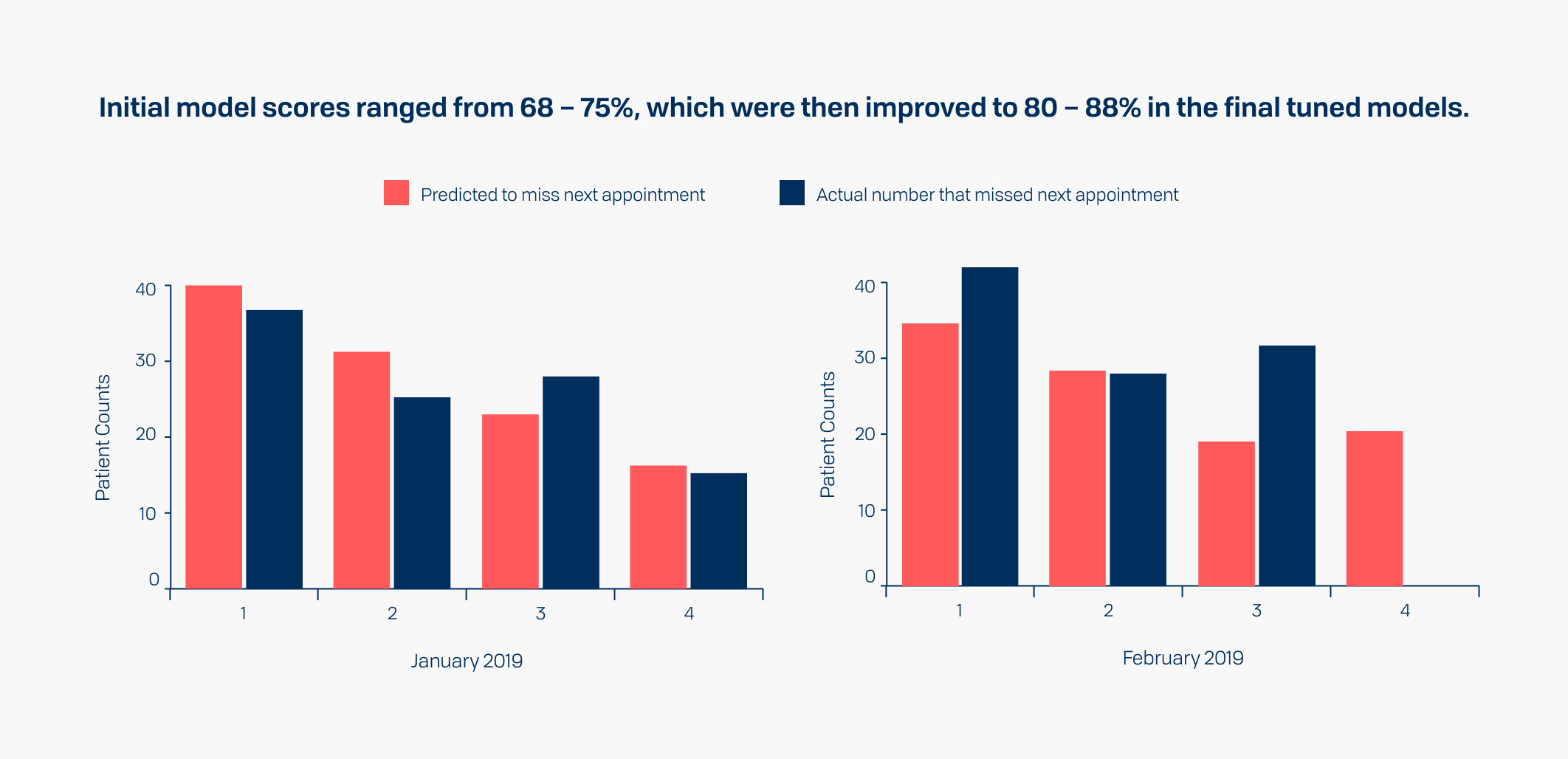 Learn More
We use Vantage
AI-generated insights
The BroadReach Consulting Patient Retention Solution is built on Vantage's proprietary technology that uses AI and machine learning to produce predictive analytics.
Learn More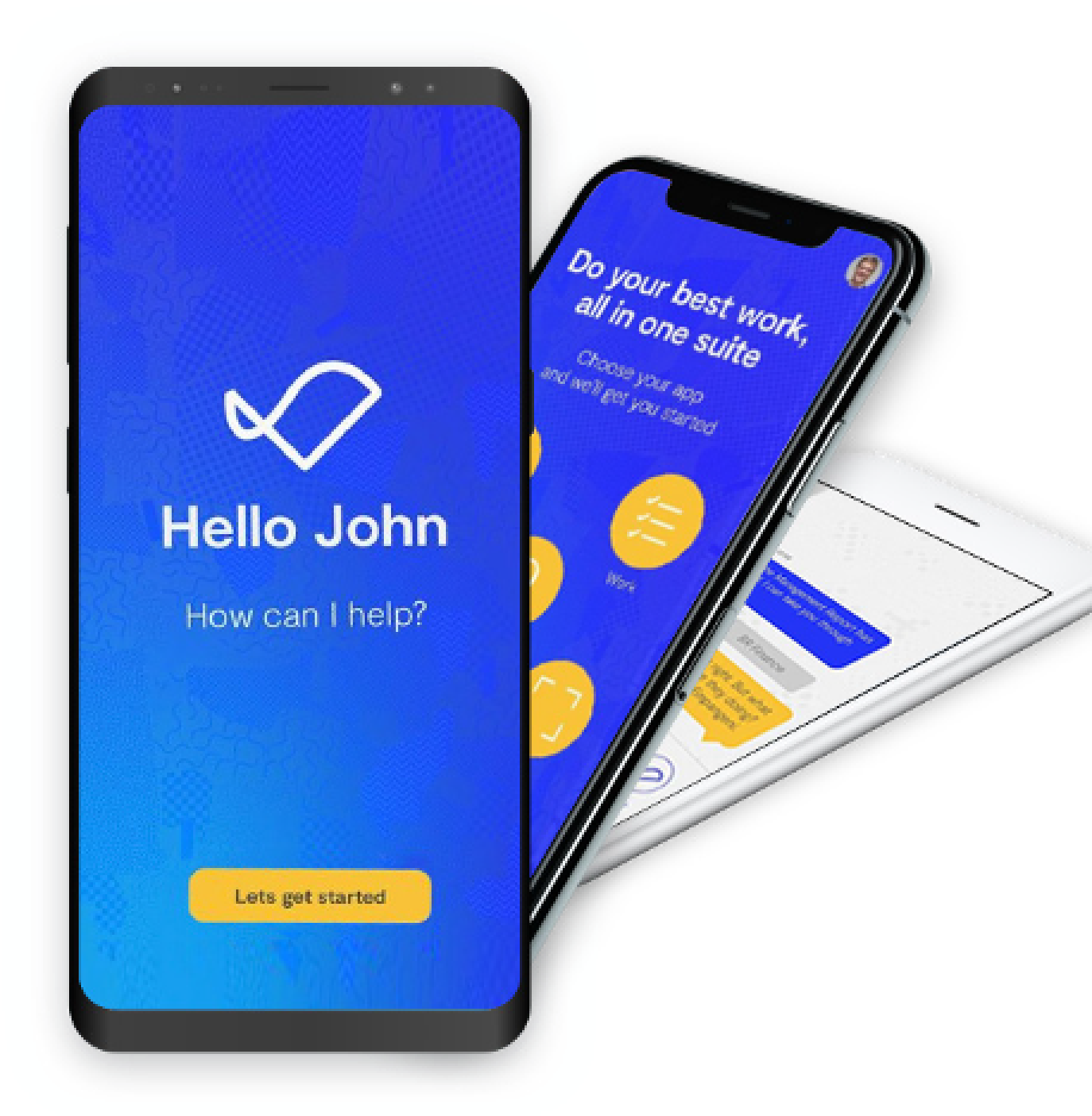 We are BroadReach
We are a group of social impact businesses. We are consultants, technologists and health systems management experts who see beyond the numbers.
Using almost two decades of experience and the foremost technology, we design and deliver effective solutions to healthcare problems in emerging markets, empowering stakeholders to make the right decisions and implement the right actions that improve health outcomes and change lives.
We are the BroadReach Group.
Learn More

experience in Health Systems Strengthening

across Africa, the Americas & Asia

technologies to deliver impactful solutions