Global funders PEPFAR and USAID, public health experts BroadReach Health Development and the Department of Health combine forces to combat vaccine hesitancy and get highest risk communities vaccinated.
Mpumalanga and KwaZulu-Natal, the two provinces with some of the lowest COVID-19 vaccination rates – 41% and 42% respectively – and highest vaccine hesitancy in the country, are now benefiting from an innovative multinational partnership to tackle the 'triple threat' of COVID-19, HIV/AIDS and tuberculosis (TB).
The project is a partnership between the Department of Health (DoH), international funders and public health implementation specialists BroadReach Health Development, whose collaborative 'COVID-19 brigade' is working deep in rural communities to take vaccinations to the people who need them most.
The COVID-19 vaccination drive is an extension of the United States Agency for International Development's (USAID's) longstanding commitment to and investment in local partners to strengthen health outcomes in South Africa. "To tackle the triple threat of HIV/AIDS, TB and COVID-19, we are tapping into our trusted local networks with partners like BroadReach Health Development and other partners who deeply understand the context of the communities they serve," says Andy Karas, USAID Mission Director for Southern Africa.
"These teams understand many of the local barriers fuelling low vaccination rates and can support their communities to get vaccinated," says Karas.
Dhirisha Naidoo of BroadReach Health Development says the goal of the programme is to address hesitancy and to provide accessible, community-based vaccinations in particularly vulnerable communities. "Informing the strategy is data like the latest research by University of Johannesburg and the HSRC, which found that the main barriers to vaccination in rural areas were not knowing where to go (24%), vaccine sites being difficult to get to (18%) and the high cost of getting there (17%). Understanding the context of the individual is vital in understanding vaccine hesitancy and vaccine equity. We must understand which barriers are technical and situational versus those that are ideological – then we design interventions to address the local need."
Extending the international partnership approach to pandemic management
These partners have been working together for many years to reach the 95-95-95 UNAIDS HIV treatment and care targets across South Africa. The targets refer to 95% of people living with HIV knowing their status, going on treatment, and achieving viral suppression.
Karas says: "We are excited to be able to once again support the government through local partnerships and relationships that have made massive impacts through close to 20 years of PEPFAR and USAID support. These local partnerships will ensure the critical need to explain to their communities the important step to be vaccinated."
In terms of COVID-19, South Africa's overall adult vaccination rate currently sits at 47.77% (as of 27 February 2022), while provincially Mpumalanga and KwaZulu-Natal's (KZN) vaccinations rates are below the national average, at 41.86% and 41.23% respectively. Many rural and disadvantaged districts in Mpumalanga and KZN had vaccination rates below 25%. The Ugu District in KZN – which nationally had one of the highest prevalence of HIV (especially among pregnant women) until public health experts BroadReach intervened in partnership with DoH to become the first district in South Africa to reach the global UNAIDS treatment goals – now has a 20% COVID-19 vaccination rate. This resulted in the DoH placing it on its priority list for accelerated and scaled up vaccination rollouts.
The COVID-19 brigade returns to rural KZN and Mpumalanga
The four districts receiving priority intervention from BroadReach are the Ugu District and King Cetshwayo (23% vaccination rate as of 22 February 2022) in KZN, and Gert Sibande (24% vaccination rate) and Nkangala (21% vaccination rate) in Mpumalanga. Certain municipalities within these districts are at greater risk with Thembisile Hani (in Nkangala) reaching just 19% vaccination coverage and Mfolozi (in King Cetshwayo) reaching just 12% vaccination rate amongst adults.
"We are excited to again send in our COVID-19 brigade, who worked alongside DoH during the early days of the pandemic to reach over 4 million people in rural communities in these four districts with screening and readiness interventions. We are particularly proud to continue our partnership with the PEPFAR and USAID to support DoH to make a real impact in communities we have supported for many years. With our local knowledge we can work quickly to mobilise and scale up life-saving interventions that speak directly to local drivers of action and inaction. We are doing innovative grassroots work, led by data," says Naidoo, who heads up BroadReach's USAID HIV programme called APACE and now manages and additional 350 health workers for the COVID-19 vaccination drive. APACE (Accelerating Programme Achievements to Control the Epidemic) is a PEPFAR funded USAID project geared towards beating HIV/AIDs in South Africa.
The COVID-19 brigade is made up of integrated specialist teams in communities who assist with vaccine hesitancy and uptake. Community organisers share information, data capturers collect patient information, and nurses and doctors assist patients in the communities. "They will be helping with practical interventions so that people do not have to travel, pay for transport or spend a lot of time getting vaccinated. Community educators will also be on hand to help people register, discuss vaccinations in their mother tongue and dispel key misinformation that may be scaring people away," says Naidoo.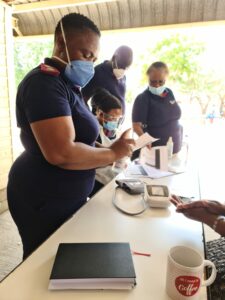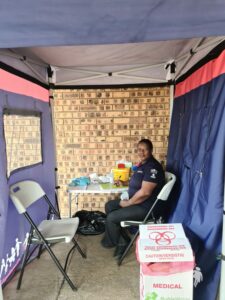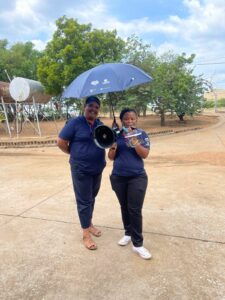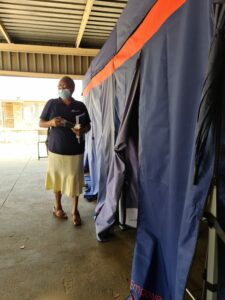 Tackling the triple threat of HIV/AIDs, COVID-19 and TB in the worst affected areas
"These are priority districts not just because of the low vaccination rates but also because these populations have high rates of HIV, TB and other complicating comorbidities," says Dr Claire Serrao, HIV Care and Treatment Lead at BroadReach Health Development.
Dr Serrao, who is also BroadReach's Programme Technical Lead of the new COVID-19 vaccination project, says research has shown that immunocompromised people, such as HIV+ individuals, are more likely to have breakthrough infections, experience more severe illness or mortality, and are at greater risk of prolonged infections making them potentially more likely to host mutations of the virus.
Additionally, vaccine hesitant men are being particularly prioritised, because only 43%* of men were vaccinated for COVID-19 across the four districts, compared to 56%* of women. This difference in vaccination levels between the genders has been noted across South Africa, and it may be due to views around masculinity and health. [*Source: sacoronavirus.co.za, correct as of 25/02/2022]
"Our existing staff, who have been working in facilities for over 10 years alongside the DoH to support their HIV treatment and care, are now working closely with our new COVID-19 teams so that we can leverage our support on case management within the communities that we serve," explains Naidoo.
Naidoo says that the current COVID-19 vaccination process is especially beneficial for immunocompromised people, such as those living with HIV and TB. "Easy access and acceptance of COVID-19 vaccines can assist to reduce the risk of severe illness in patients on chronic care when infected with COVID-19."
Using data for better interventions
The health workers in the programme rely on data to target at risk populations and useful content resources, including flash cards, to guide them in providing the best information to their communities. The health worker teams at the facilities provide health education and address patients' questions about vaccination safety and efficacy, specifically addressing the prime reasons why people may be hesitant to vaccinate. In addition, a COVID-19 brigade of community health workers are going door to door in the communities to provide education, help schedule vaccinations and even conduct on site vaccination drives.
"By mobilising and creating community specific interventions, including good content and data, we are able to effectively address the triple threat of COVID-19, HIV/AIDs and Tuberculosis," says Dr Serrao.