We're a year into COVID-19. The novelty value has worn off and for many, every day feels like Groundhog Day. As screens have become the window to work, as well as the window to friends and family, we're spending the best part of our waking days talking to our devices.
The likelihood is we're missing non-verbal, one-to-one, body language communications. That extra dimension that comes with the ability to have a coffee, talk about what's on your mind and share ideas – all now funnelled into Teams chats every once in a while as fleeting moments.
There's no right time to share those moments – where we had once tightly connected teams sat talking to each other is now a distant memory, and when we meet on screen, it can lead to a sense of not being heard. Some find turning a camera on an imposition into the work/home blur, and I often sense discomfort in members putting the 'Teams' hand up of their own volition as they wait to be asked 'Hey, how do you feel about this' to allow them to speak.
Add this all up and it leads to stored-up feelings and narrow vision.
When we sat around a table, our body language could sense that someone wanted to contribute, or there was a humorous moment to be had. Even when we can see each other virtually, the camera forces us to have a narrow view when our eyes are built to take in the widest view of human communication in its broadest sense.
As screen fatigue (and 'stay at home' fatigue) truly set in like this, we must always remember the bigger picture, and be aware and as open as possible. Remembering what teamwork means, how we get the best from each other and how we elevate people to be their best. If we let ourselves get stuck in this creeping narrow vision, then we miss the point of working and growing in a team.
One way to anchor ourselves back in a broader view is by keeping our minds focused on common purpose and shared values. Within BroadReach Group and Vantage Health Technologies, our vision is a world where access to good health enables people to flourish, and we do this via our mission, to harness health technology and innovation that empowers human action. Our value to be compassionate means we care deeply about the needs of our clients, colleagues and communities we desire to serve.
Compassion is a big word, and one that people have been trying to define for hundreds of years. In fact, you'll find it at the heart of most of the world's belief systems. It's much more than feeling sorry for someone, feeling pity, or even the phrase 'standing in their shoes'. We've all had a few moments in our lives when we have felt compassion and it makes you draw a deep breath and feel someone else's feelings. But are we always being compassionate when we need to be?
It's up to each one of us to own that by:
#1 Taking a deep breath and remembering we are still the same people that we were when we interacted face to face each day.
#2 Thinking what being compassionate for colleagues means, even if it's for a few seconds in the day, compassion brings people together.
#3 Seeing the other person's point of view and feeling what they feel.
We know there is strength in diversity of people and diversity of thought, and with greater compassion we can bring everyone along more effectively. If in the end we are all driven by a common purpose and we use compassion to get us there together, then our people and work are nourished and ultimately our vision and mission will flourish.
So, let's replay how we felt for each other when we worked in the same physical spaces. Let's protect our time to take that 'deep breath' and listen when it tells you to bring people together, albeit virtually. Let's allow people to talk because it's the right thing to do. Compassion is a sign of strength not weakness, and it's why compassion is our deepest, most important value. Purpose cannot be achieved without it.
There are many times that we say stand back, breath and take a moment to reflect. The many months ahead will present the best opportunities for all of us to do so, with compassion.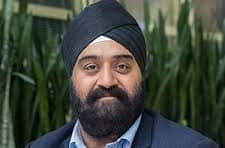 Paul has over 30 years' experience in senior executive roles and acts as a coach in helping companies through digital transformation, consulting/ advisory, innovation and building effective go to market models. Paul has been a Partner in various global consulting and technology firms where he has led these enterprise business both at a regional and global level with Go to Market, Strategy, and Delivery accountability across many verticals. He is a passionate, customer focused leader leading through values based leadership.