We asked a few of our wonderful nurses the below three questions: 
What inspired you to become a nurse? 

 
What inspires you to continue your work?

 
Can you share any of your heartfelt stories or experiences?

 
This is what they had to say:  
Philisiwe Gasa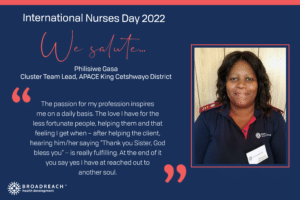 I was inspired by the love of caring for the sick since the early 80s. In 1981 my father was diagnosed with oesophageal cancer. I was the one caring for him at home until he went into hospital where he later died, which was sad but at least I had time to nurse him. 
I continue this work because of the passion for my profession and the love I have for the less fortunate, helping them and that feeling I get after helping the client, hearing him/her saying "Thank you Sister, God bless you" is really fulfilling. At the end of the day you can say yes I have at least reached one soul. 
Nhlanhla Goodman Shabangu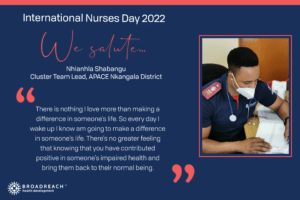 There is nothing I love more than making a difference in someone's life. Every day I wake up, I know I am going to make a difference in someone's life. 
There is no greater feeling than knowing that you have contributed positively to someone's impaired health and bring them back to their normal being. That person was seeing himself or herself walking in the valley of the shadow of death but I was there as a Professional Nurse and pulled that person out of danger with the medical knowledge, skills and experience that I am now possessing in my 10 years in this profession. 
 What inspires me to continue to work, is the mark that I am leaving in each and every facility, community and patient that I have work with. The remarks I get when I bump into some patients in town and they tell me how I helped them is so amazing. 
Stella Luthuli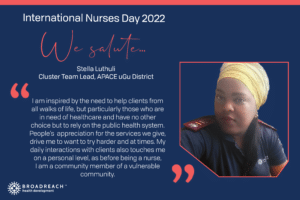 My inspiration came from being a young admin clerk working in a small rural hospital where I would often see nurses and patients interacting and most importantly seeing the impact nursing care had on those who need care. I was fortunate that in my previous role as an admin clerk I worked closely with the nursing Manager at the time who often would make a joke that he sees a nurse in me and motivated me to apply and fortunately I was accepted at Greys Nursing College – the rest is history. 
 My inspiration comes from the need to help clients from all walks of life but particularly those who are in need of healthcare and have no other choice but to rely on the public health system. Working in deep rural areas where I meet people who show so much appreciation for the services we give . It gives me the drive to want to try harder and at times even walking on the streets having someone recognise you and tell me how much I have helped them at some point makes me see that I have a purpose and that is to serve the underserved community. My daily interaction with clients also touches me on a personal level as before being a nurse I am a community member of a vulnerable community.  
One of the recent stories is that of a young male that I would often see on the street and he would regularly ask me for something to eat and I would give him without paying any particular attention to him. But one day I asked him why he was on the street and why he had a bandage on his leg and also crutches. To my surprise he showed me his wound and I just had to help him. I then booked him an appointment with the medical officer and he is now receiving help in both healthcare and hopefully also with some social relief of some sort. After seeing him today and seeing how enthusiastic he is about receiving healthcare it really makes even the most challenging days feel like just another day that can make a difference to someone else's life.